MARCH 2014

K69 A Little Beach Kit
Our companion to the other "Little" kits includes 30 ct. natural linen, starfish charm and Bahama aqua beads. Time to get beach-y, if only in our dreams (and stitches)! Check out our other Littles...A Little Love, A Little Easter, A Little Liberty, A Little Christmas and A Little Snow.

#163 Be Who You Are
This is a great quote from the beloved author, Dr. Seuss. It's sweet and encouraging. and altogether wise in a Seuss sort of way!

F140 Autumn 4 Seasons Flip-it
Our seasonal series continues with our autumnal tribute. Lots of beautiful fall colors and our favorite autumn motifs. Includes 3 tiny black buttons.

F141 Winter 4 Seasons Flip-it
Our 4 seasons series is now complete! Stitch each season separately, or combine them into a year-round stitchery using our FREE template. Click on the all-together photo for template. FREE border and complete instructions for putting all 4 Seasons together!

B47 If We Pray Inspiration Boxer
This is a lovely quote from Mother Theresa. Inspiration kit includes 30 ct. natural linen, bonus project, and embellishments for both pieces.
FEBRUARY 2014
What's new at L*K? Two REALLY SPECIAL Limited Edition kits!
We brainstormed before our annual Nashville Market, trying to think up something unique and totally fun for our customers! We decided to do some really inclusive, "full-service" kits, with all sorts of extra goodies included. Linda started designing and shopping for cool finishing fabrics and fun embellishments. Check out the results below!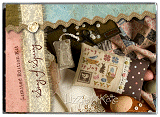 K67 Song of Spring Limited Edition Kit
We could have called this design "bunnies and birds"! Lots of our favorite spring-motifs and lovely muted colors combine for a real spring treat.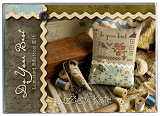 K68 Do Your Best Limited Edition Kit
Taken from a longer sampler verse, we love the simple phrase "Do Your Best". I remember my Mom telling me this, and me (repeating my Mom!) giving my daughters this timeless advice. So simple, yet so meaningful and appropriate.
JANUARY 2014
New for 2014... our first seasonal Flip-its ever!
We used a lot of our favorite sampler motifs and themes on this series, and each one comes with 3 tiny buttons. It's our smallest Flip-it series ever, with 4 seasonal parts. If you're ready for a breath of spring and summer, check the details below!

F138 Spring 4 Seasons Flip-it
It may be winter outside, but we're thinking SPRING! Lots of little critters and flowers make this sing of spring. Stitch Spring separately, or begin an heirloom 4 seasons sampler.
Check out our complete instructions and template for combining all 4 designs.
Includes 3 tiny aqua buttons.

F139 Summer 4 Seasons Flip-it
Our 4 Seasons series continues with a cheerful summer-y scene with lots of feathery, flying friends. Includes 3 tiny pink buttons.

#162 Let Them Be Small
We think this saying is super sweet, and appropriate for so many of us, our relatives and friends. Just put on some old childhood movies/DVDs, and try not to shed a tear while you're stitching!

S112 Snowy String
Our "string thing" continues (just like the snow outside!) with a blizzardy, flaky, wintry scene. This string is a companion to our other string designs... Spring String, Buzzy String, Spooky String, Thankful String and Merry String.

B46 The Lord is Good Inspiration Boxer
"The Lord is good, and his love endureth forever"
Psalm 100:5. This cheerful design is colorful and classic. Boxer kit includes 30 ct. natural linen, embellishments and darling bonus project.
DECEMBER 2013

K66 A Little Snow Kit
We're ending 2013 with a "A Little Snow". No, not the icy, cold, freezing stuff... we're talking SNOWY stitches! No snow where you live, or too much snow for comfort? This little snowy gem is the perfect remedy... much less cleanup and the snow always stays clean and white!
NOVEMBER 2013

Holly & Hearts Mystery Sampler is SOLVED!!!
The final Part 3 of Holly & Hearts is now available, so the mystery design is complete! Part 3 includes the pattern for the right hand portion of the design, including an antique gold heart charm. How many hearts can you count of the entire design? How many holly leaves? Check it out!
Thanks for joining us on this mystery project! It's been a fantastic 3 months as we watched the mystery unfold...together!
If you didn't join the mystery club in the beginning...no worry! All 3 parts are available now, and you can even see what your finished project will look like, right from the start. Contact your favorite needlework shop to order all 3 parts of the Holly & Hearts Mystery Sampler. There's also a convenient prepack of all the threads needed to complete the project available.
Christmas comes every year, so join in the fun!.
OCTOBER 2013
Holly & Hearts Mystery Sampler Part 2
Our holiday mystery unfolds! Part 2 includes the middle portion of this 3-part horizontal design. There's a lovely Christmas sentiment, a sweet little holiday birdie, and...it's a mystery! Stitch along with us and turn your thoughts to the lovely season ahead. Includes another BONUS holiday project.

#160 Life is Not Measured
Oh my - we've had SO many requests for this saying, and it's finally here! Lovely sentiment and lots of fun fonts to stitch on this one.

#161 Flora McSample's 2013 Christmas Stockings
Our sampler friend, Flora McSample always does a set of Christman ornaments, and this year she decided to make tiny stockings. These 3 little stockings are cute to boot (I mean stocking!).
Great little quickie projects that you'll enjoy for years to come. Includes embellishment pack with beads, buttons and antique gold charm.

B45 Good Friends are Like Angels Inspiration Boxer
So true, so true! The older I get, the more I value my friends, both old and new. Includes 30 ct. natural linen, hand-dyed muted teal flower buttons and bonus freebie!
SEPTEMBER 2013
Holly & Hearts Mystery Sampler Part 1
Our holiday mystery is beginning with Part 1 of our mysterious three part series. Part 1 includes first pattern portion, as well as the thread key you'll need to complete the whole series, specialty stitch guide and BONUS freebie design.
We stitched our Christmas sampler on lovely Doubloon linen from Picture This Plus. We are offering 4 different kinds of Doubloon fabric, so you can choose your favorite - 28 or 32 ct. linen and 14 or 16 ct. Aida. We've also put together a thread pack with 12 skeins of beautiful Weeks Dye Works overdyed threads. Choose the pattern only, or select fabric and threads to make your sampler looks just like ours.
YOU'RE INVITED!! Stitch along with us on our mysterious holiday journey. The 2nd and 3rd parts of the design will be available in October and November. Let the spirit of Christmas live in your heart!
HOOT Limited Edition Kit
Halloween is almost here and it's time to HOOT! Our little biscornu kit (the first biscornu we've ever designed!) is quick, colorful and full of Halloween fun.
AUGUST 2013

#159 Tiny Tidings XVIII Chartpak
Yes, that's 18! Eighteen years of tiny Christmas designs and we're still having fun. We have 5 little designs this year...different shapes and sizes.

E159 Tiny Tidings XVIII Embellishment Pack
Little goodies to complete all 5 designs, all conveniently packaged together.

S109 Thankful String Snippet
More string-y holiday fun! We are loving these wide, height-challenged designs, and this one's perfect for autumn/Thanksgiving. Stitch them as graphed, or add lots of JABC buttons...you choose!

S110 Merry String Snippet
Here's a Christmas string that's super cute and quick - just like the other string-y things. Stitch it up this weekend and you'll still have time to shop!

S111 Jolly Old Soul - Santa '13
Yes, he really is a jolly old soul this year, with a sly smile on his face. Traditional holiday colors, a little more muted this year for an old-fashioned look.

S111E Jolly Old Soul - Santa '13 Embellishment Pack
The perfect accessories for this year's Santa include 2 ivory snowflake buttons and 3 antique gold stars.

F135 Love Jingles Flip-it
Finally! The last 3 Jingles are here, competing the 12-part Jingles ornament series. Stitch them separately as ornaments, little holiday trinkets, whatever you like... or combine them all (pictured on the back of each Jingle) using our FREE online template.
Includes tiny red button.

F136 Joy Jingles Flip-it

Who says ornaments have to be square? We did a cute bell shape on this one, just for fun!
Includes tiny red button.

F137 Let It Snow Jingles Flip-it
We love snow! Cute colorful mitten and snowflakes galore on this one.
Includes tiny red button.
JULY 2013

HOLLY & HEARTS MYSTERY SAMPLER
We have exciting news to share! We're working on one of the biggest projects we've ever done at L*K, and it's coming in Autumn 2013. The theme is Christmas, and we can't wait to share this Christmas treasure with all of you. But, since it's a MYSTERY SAMPLER, we'll be unfolding the design in 3 parts...one each in September, October and November.
JUNE 2013

158 My To Do List Chartpak
Are you a list maker, or wanna be one? Here's a great solution, and our list never gets old...or lost!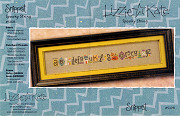 S108 Spooky String Snippet
Our "string" series continues with a scary Halloween twist. Lots of fun Halloween motifs and great colors make this a creepy delight!

F132 FaLaLaLaLa Jingles Flip-it
More Jingles ready for holiday stitching, including aqua snowflake button and white beads. Don't forget our FREE graph and instructions for combining all the Jingles.

F133 Joy to the World Jingles Flip-it
It's another Christmas carol inspired design, complete with red button embellishment.

F134 Silent Night Jingles Flip-it
This sweet little owl is ready for the holiday. Design includes aqua snowflake button and white beads.

B44 Faith Is Being Sure Inspiration Boxer
We've graphed the well known verse from Hebrews with a traditional alphabet and beautiful muted colors. Kit includes natural linen, rusty beads and bonus design pictured on cover.
APRIL 2013

157 Think Deeply Chartpak
A lovely saying and beautiful muted colors make this design a sweet treasure.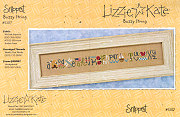 S107 Buzzy String Snippet
Our "string thing" continues, this time with a summer-y look! Buzzy bees, dragonflies and ladybugs create the "buzz" in this design. This is a companion piece to S106 Spring String. More "strings" coming soon!

F129 Cheer Jingle Flip-it
More Jingles for your year-round Christmas stitching pleasure! There's a friendly snowman and some feathery friends, embellished with button and beads. We finished him into a unique triangle ornament (See our FREE Jingles finishing blog http://magicbymona.blogspot.com/), BUT you'll find this design in a heart shaped border on our all-together Jingles project.
F130 Wait 'til Dec. 25 Jingle Flip-it
Every Jingle is a different shape and this one is wide and height-challenged. Includes colorful gifts, of course! Button and beads embellishments included.
F131 Merry Jingle Flip-it
This little square design is a band sampler theme with traditional motifs and bright, holiday hues. Includes tiny red button embellishment.

B43 Perfectly Kept House Boxer
Isn't there always something more fun to do than clean house? And how can my house be perfectly clean when there are so many unfinished projects? Kit includes 32 ct. lambswool linen, embellishments and a really cute "Live Simply" bonus design.
March, 2013
Spring has sprung, and fun new kits are springing up all over! We've got 3 little bitty Limited Edition kits (get them now!) and one BIG kit that is here to stay. Enjoy!
K62 At Our House Kit
This saying has it all...sweet, silly, sentimental...bursting with family and love! Kit includes Crescent Colours threads and DMC. Choose your own fabric to create this family keepsake.

K63 Chicks Limited Edition Kit
3 darling little chicks and lots of pretty eggs! Kits use assorted fabrics and include green beads. This Easter gem is a quickie, so you'll still have time to dye your eggs and munch some jelly beans!

K64 Flowers Limited Edition Kit
Cute square design with vintage flower-7 motifs. Includes muted red flower button and golden beads, also with assorted fabrics.

K65 A Bee C Limited Edition Kit
Lots of "b's" in this design...3 buzzy bees and one letter "b." Kitted with assorted fabrics and rusty beads.
JANUARY 2013
Woo-hoo! It's 2013 and we're celebrating with lots of fresh, new designs. We're keeping the spirit of Christmas in our hearts all year with our Jingles Flip-it series, a fun group of 12 little ornaments. Check out all of the other goodies below!
JINGLES Flip-it Series!!!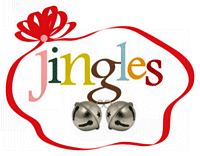 Want to know all the scoop on our new JINGLES Flip-its? Read on! JINGLES are a group of 12 little Christmas designs, perfect for ornaments or wherever else your creativity leads you. We'll release several designs at a time, with the series complete in plenty of time for the holidays. As usual, each JINGLE comes with it's own embellishment pack. These alternate between tiny red buttons, and aqua snowflake buttons and white iridescent beads.
Each design is a different size and shape, but they all fit together into one big Christmas-y stitchery. We'll provide the FREE template to combine the designs, including some extra stitched areas. There are also complete instructions and thread list.
For the first time ever, we've set up a special finishing blog with FREE instructions for ornament finishing. Thank you, Mona, finisher extraordinaire! Magicbymona.blogspot.com. These are great instructions for cool finishes...for the JINGLES and your other stitchery projects!
F126 Deck the Halls JINGLES Flip-it
Let's get this Christmas party started! This is the first design in our 12 part JINGLES series. We were inspired by the Christmas carol of the same name. Includes aqua snowflake button and white beads.

F127 Noel JINGLES Flip-it
Come to our peppermint party! We've got hot chocolate, chocolate chip cookes, and lots of peppermint-y holiday spirit! Includes tiny red button.

F128 HoHoHo Holiday JINGLES Flip-it
It must be Rudolph standing there in the snow, because his nose is a cheery red button! Flip-it includes tiny red button.

#156 Promise Me
We love, love, love this saying from Winnie the Pooh. It's good advice...for bears and humans!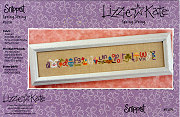 S106 Spring String Snippet
What fun! It's a super wide, super short string of springtime motifs, all held together with a beautifully colored spring alphabet.
B42 As for Me and My House Inspiration Boxer
This well-known scripture makes a great gift - anniversary, wedding, house-warming - or stitch it for your home! Kit includes 30 ct. natural linen, chart with bonus thread tag design and embellishments.