All of your favorite autumn motifs will be there...owl, blackbird, candy corn, pumpkins, sunflowers, black cat, acorns, haunted house, leaves...combined with antique sampler borders and motifs...all tied together with the usual L*K flair using beautiful hand-dyed Weeks Dye Works fibers and linen. We even joined with WDW to create a beautiful new color, just for this design!
We love a good summer mystery, and hope you do, too! Need more details? Contact your local needlework shop NOW for more info and sign up for the monthly shipments. Let's have a happy, SPOOKY summer!
JULY 2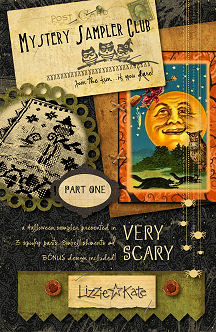 It's official! Part 1 of the Very Scary Mystery Sampler is "mysteriously" coming to your favorite needlework shop.
If you haven't signed up for the Mystery Sampler Club, there's still plenty of time. The whole project will be revealed in 3 separate parts this summer. We just shipped Part 1, so parts 2 and 3 will be available in late July and August.
It's a whole summer's worth of spooky stitching with our favorite Halloween motifs, a spooky saying (wonder what this could be?), some sampler-ish motifs (including specialty stitches) and typical L*K fun!
Check out the Part 1 cover! What? NO PHOTOGRAPH of the finished project? Of course not!! That's the MYSTERY part!
Part 1 includes the top portion of the sampler pattern with complete thread guide, specialty stitch guide, and even a few silly Halloween riddles. Hang onto the thread and stitch guides... they won't be repeated in parts 2 and 3.
We've also included a BONUS design!
Each part of the Very Scary Mystery Sampler will have its own bonus design. The pic shows how we finished our HAUNTED bonus design.
Join us for some mysterious summer fun... IF YOU DARE!
AUGUST 17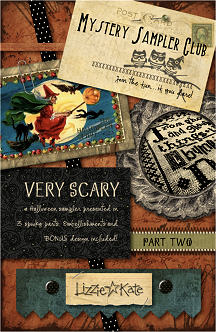 Very Scary Mystery Sampler Part 2
The second part of our summer of stitching mystery is here! This part reveals a spooky Halloween verse. There are a couple silvery charms, and there's a cool leafy border in beautiful fall-colored threads.
What's coming next? It's a mystery, of course! Stay tuned for the final Part 3...and solve the Very Scary Mystery Sampler with us!
SEPTEMBER 4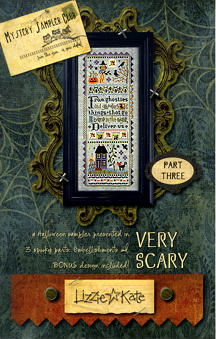 Very Scary Mystery Sampler Part 3
Part 3 is here and the Very Scary Mystery Sampler is finally SOLVED!
It's been a wonderful summer of stitching suspense, and the fun doesn't need to stop now. You can stitch the 3-part Ver y Scary Mystery Sampler any time you want! Each part comes with a portion of the whole design and matching embellishments. There are also complete stitch guides with illustrations and instructions for the specialty stitches.
There is also a fun BONUS design with each part. These little freebies are very versatile square designs, so you can do any creative finish you like. The Part 3 BONUS design is downright SCARY!
Thanks for joining us on this mystery tour, and we wish you all happy sleuthing and stitching!